Handmade Greyhound and Lurcher Collars
Handmade exclusively for Percy Loves Lulu by a Master Saddler using traditional tools and age old methods. Our dog collars are cut from rich dark brown bridle leather, hand sewn using classic yellow stitching and with solid brass hardware.
Tailored specifically to greyhound, lurcher and other sighthound needs, our collars have an extra thick padding on the inside and are lined in luxuriously soft leather to protect their necks and throats.
Measures 14 ½" from buckle pin to first hole, 16" to middle hole and 17 ½" to the last hole. Total length is19 ½" from one end to the tip of the other. * One size only.
*Please note that due to the handmade nature of this item, some slight variations may occur in size and stitching.
We regret that we are currently out of stock of this item. Please email us if you wish to be notified when it is back in stock.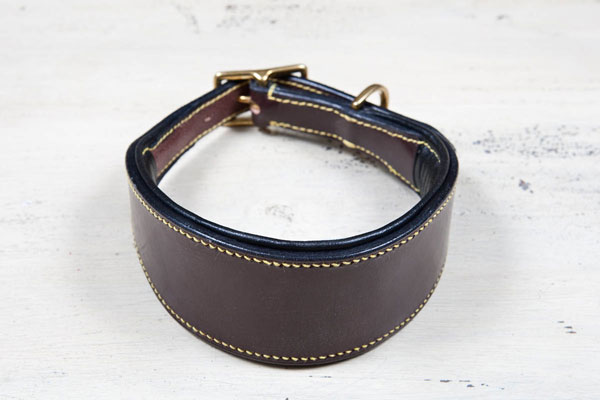 Collar
£ 65.00
( $ 104.65, € 76.70 )